SRV Canada VRS
enables Deaf, Hard of Hearing or speech-impaired Canadians who use American Sign Language (ASL) & Langues des signes Québécoise (LSQ) to make telephone calls via internet-based videoconferencing technology. 
Whether ordering a pizza or speaking with someone in a doctor's office, this app allows any Canadian citizen to make & receive telephone calls when texting/messaging are not available. 
Platform: 
iOS, Android, Windows & Mac computers with Safari & Waterfox web browsers
Deliverables:
 Update & redesign mobile app architecture, aesthetics, & features with medium to high fidelity mockups & clickable prototype
Challenge:
 Incorporating: a chat option (plus many other features) during a VI (video interpreter) call; a continuously accessible language toggle; an easily accessible 9-1-1 call button
Objective: 
Provide autonomy to deaf, hard of hearing, or speech-impaired Canadians (using ASL & LSQ) with a convenient app enabling them to make & receive telephone calls, plus much more 
Click play to see a quick(ish) run-through of our redesigned app
Below is a small portion of the before & afters. UX & UI updates varied from major to minor. 
We came up with three UI concepts for the client to choose. One concept was to be the child of the desktop application, & the other two were to resemble distant/close cousins. 
In the end the client went with the child version (concept 3) & from there we wove in some UI elements from concept 1. 
The client did say they would like to incorporate the look & feel of concept 2 in a future redesign - hooray :)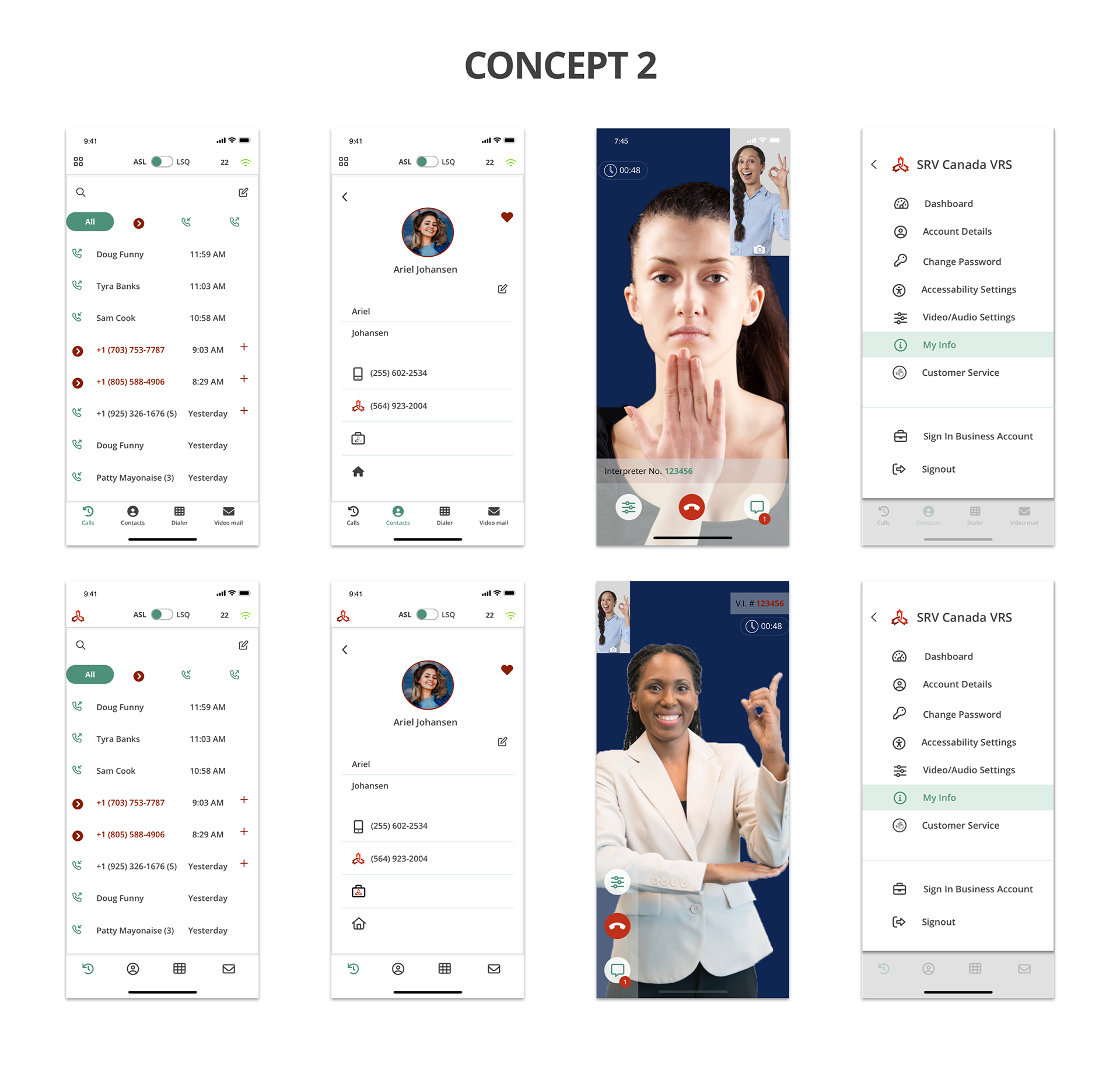 LOW - MEDIUM FIDELITY WIREFRAMES