Remedy State
 was 
created by Ben Turner and Blaise James DeAngelo from a mutual love of the arts and a desire to support the well-being and personal development of the Arts &

Entertainment ind

ustry.
Deliverables:
Define and prioritize 

features

, sketches, high fidelity mockups, clickable prototype. 
Challenge:
Simplifying the process and inspiring motivation to mental health information and programs. 
Objective: 
Provide users with motivating tips from artists who are on similar paths to mental and physical well-being. Streamline process by combining open diary wellness regimens from players of the arts and entertainment industry; and verified wellness retreats in one platform.
"Wellness advocating self-care"
"WE'RE HERE TO HELP THOSE IN THE ARTS & ENTERTAINMENT COMMUNITY TO:
Alleviate stress & anxiety
Increase mental clarity & focus
Enhance creativity & performance
Maintain emotional well-being
What personality types would relate to this identity?
Meet Theo Wilson. Theo represents Remedy State's principal user, possessing qualities created from researching and interviewing multiple attendees of Remedy State. Young, on-the-go, music industry professionals, represent our target market. By understanding who our main users are and what they need we can determine necessary features of our app.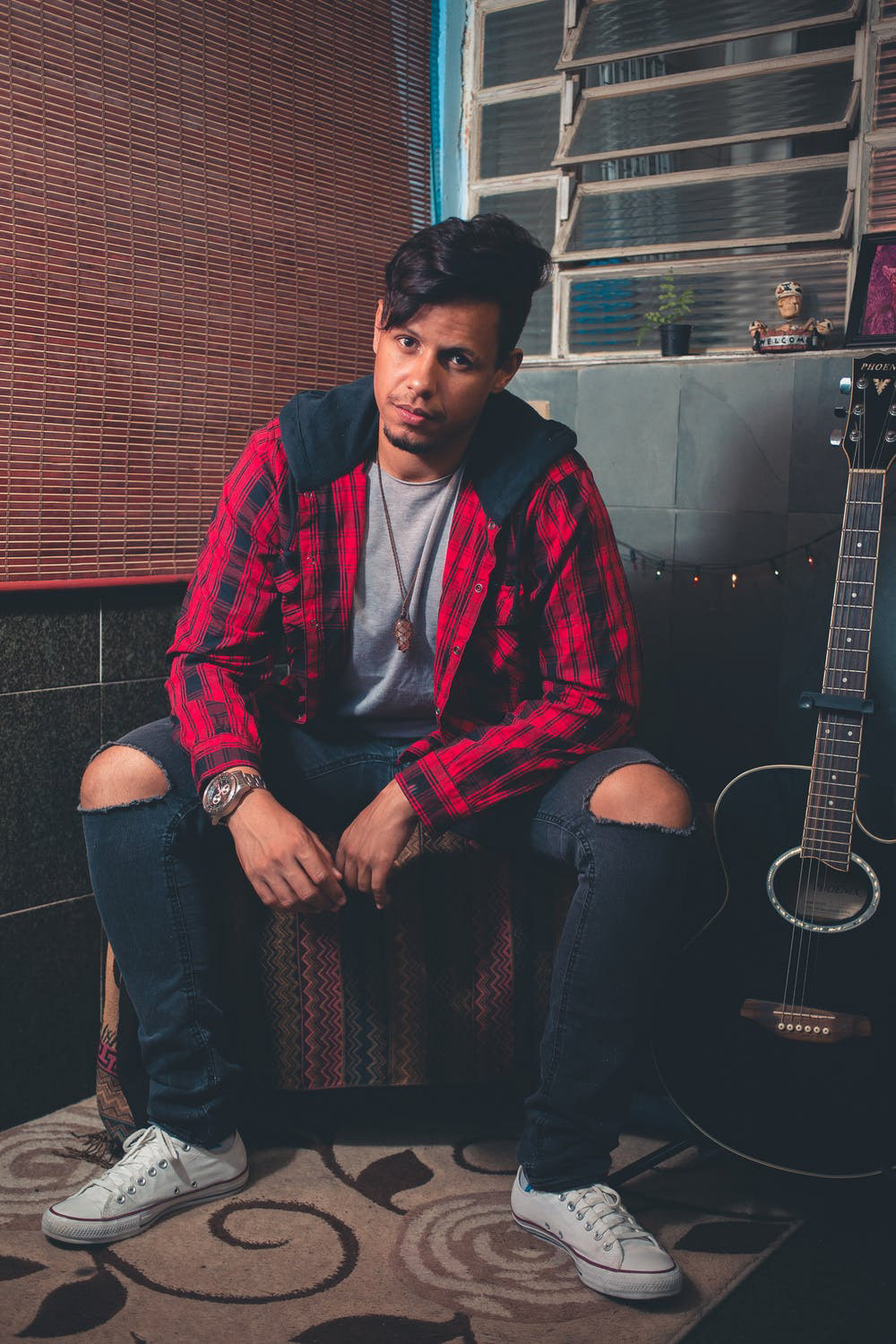 What we know about young, on-the-go, music industry professionals who will likely  use this product:
- Travel domestically and internationally 2-3 weeks per month
- Work long hours (70+ hours per week)
- Must be reachable by phone at all times
- Are tech savvy iPhone users
What is the expected business outcome for the product?
Support the well-being and personal development of the arts and entertainment industry. Increase number of retreat attendees to host six retreats each year. 
​​​​​​​
What are the users' goals?
Share and get motivating tips through open diary wellness regimens from professionals in the arts and entertainment industry. Research and sign up for verified wellness retreats in one platform.
Scenario of use to describe the typical experience that a user like Theo Wilson will have researching wellness regimens and retreats:
After long month of international traveling followed by an event filled music conference in Ibiza Theo is exhausted, mentally, physically and emotionally. He has heard about all of the meditation, workout and meal planning apps but wishes there would be just one app to incorporate all subjects in one relatable platform. During a conversation with one of the industry veterans, Theo learns about Remedy State. He downloads the app and takes a look at the "all in one" wellness platform.
The app begins with a state of questions regarding what each user's ideal goal is to learn more about, who some of their favorite artists/entertainers are, then links them with matching topics to get started. The more Theo uses the app, the better the app can tailor what information will be most interesting to him. 
​​​​​​​
Once completing a series of questions he is lead to a short feed of artists/entertainers and their wellness regimens. Depending on which tab Theo is on the regimens are displayed by most recently uploaded or in alphabetical order of the artist's name. Regimens can include recent retreats they've been to, their favorite methods of meditation, exercise, nutritional advice and so much more. He attempts to save an interesting regimens and is prompted to log in or sign up for an account. 
Once he completes creating an account, Theo makes his way to the browse retreats portion of the app, where he's able to search by types, locations, speakers, trainers, and calendar dates. If he is not ready to book his retreat, he can save it to his profile, now that he has set up an account.
Context and settings the product will be used:
Product likely to be used for same day sign ups of retreat attendance and ongoing to view new regimens, retreats, etc. 
Will the user likely be interrupted or otherwise need to return to tasks?
As a new user Theo will be interrupted to fully complete his profile, browse regimens, or sign up for retreats through Remedy State. He should spend some time to complete a series of questions for his tailored regimen feed; search for appropriate regimens and/or retreats; sign up for a profile; and enter credit card information and address for retreat attendance. Once Theo completes the checkout flow and has preferences in order then his use time can be simplified. 
​​​​​​​
Will the product be used at home, in the office, or on the go? Should Remedy State app exist first as a mobile or web-based product?
Mobile version of the service is definitely needed. Busy professionals like Theo need to use their mobile phone in daily life often.  He can be in a work environment, a meeting, to and from the office, or with clients. It's much easier for him to interact with a mobile app considering his schedule.
Are there multiple users of a single account or device?
Its better to have one user for a single account, but there can be multiple users for one device. For example, household members/roommates can use one device but different accounts (with different in-app settings and billing info).
Open card sorting was implemented in order to determine user flow. Four participants organized 25 topics into groups that make sense to them, then assigned a category to each group.
THE GOAL: DETERMINE CATEGORIES FORMED BY GROUPING CONTENT
- Search was placed in it's own category twice.
- Follow, Save and Upload in a category four times.
- Location, Dates and Calendar placed in a category three times.
- Inbox and Saved Library were placed in a category four times.
- Artists, Life Coaches, Speakers and Entertainers placed in a category four times.
- Artists, Life Coaches, Speakers, Entertainers and Fitness Trainers same category three times.
- Lose Weight and Gain Weight same category four times.
- Fitness & Health, Meditation and Nutrition same category four times.
- Location and Retreats same category four times.
The infrastructure, prioritized features, and groups for the flow of this particular task were gathered from our card sorting method.
TASK: FIND AND SIGN UP FOR AN AVAILABLE RETREAT OF YOUR CHOICE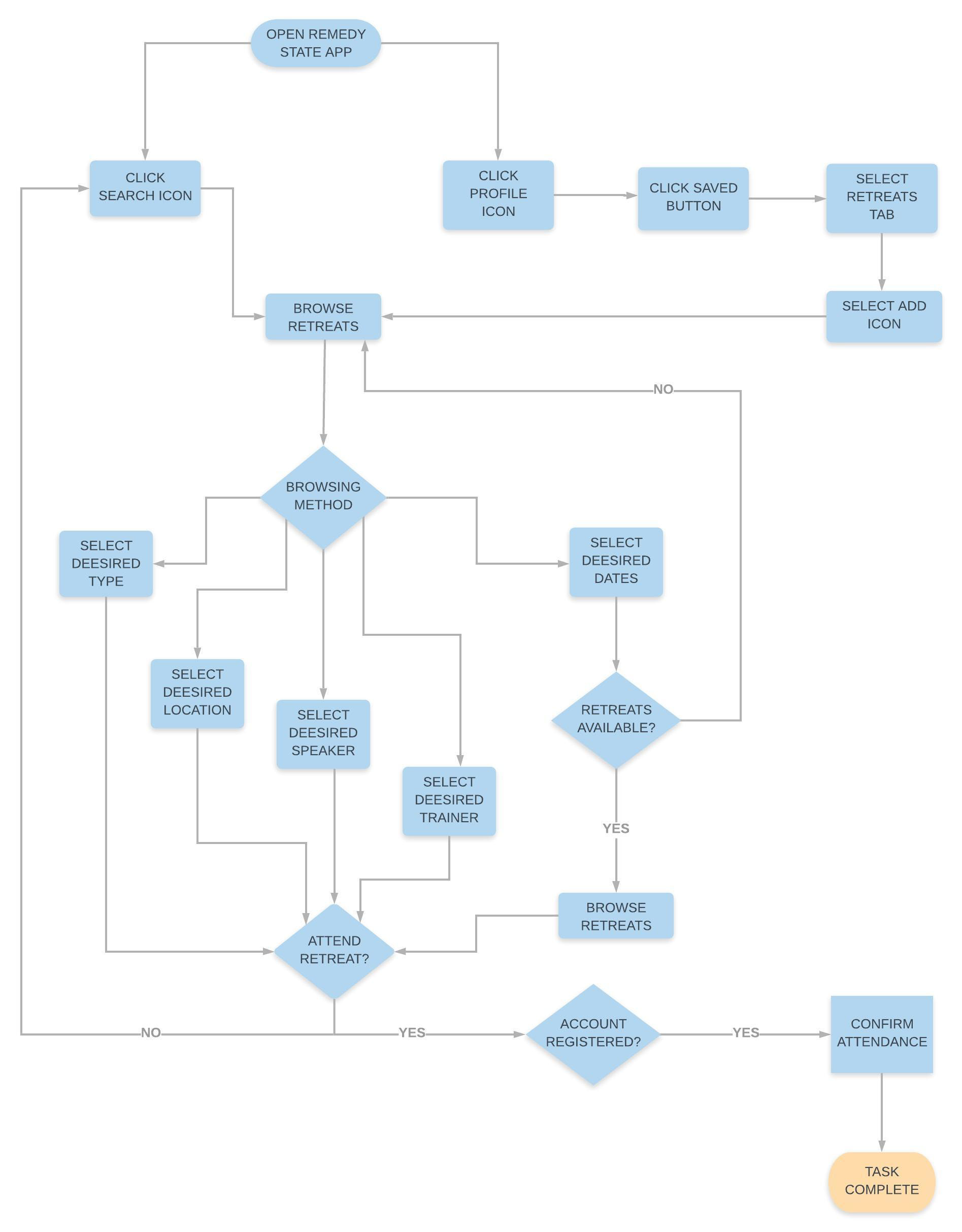 One of the biggest advantages to sketching is that it allows you to brainstorm, express, and visualize ideas quickly while involving others.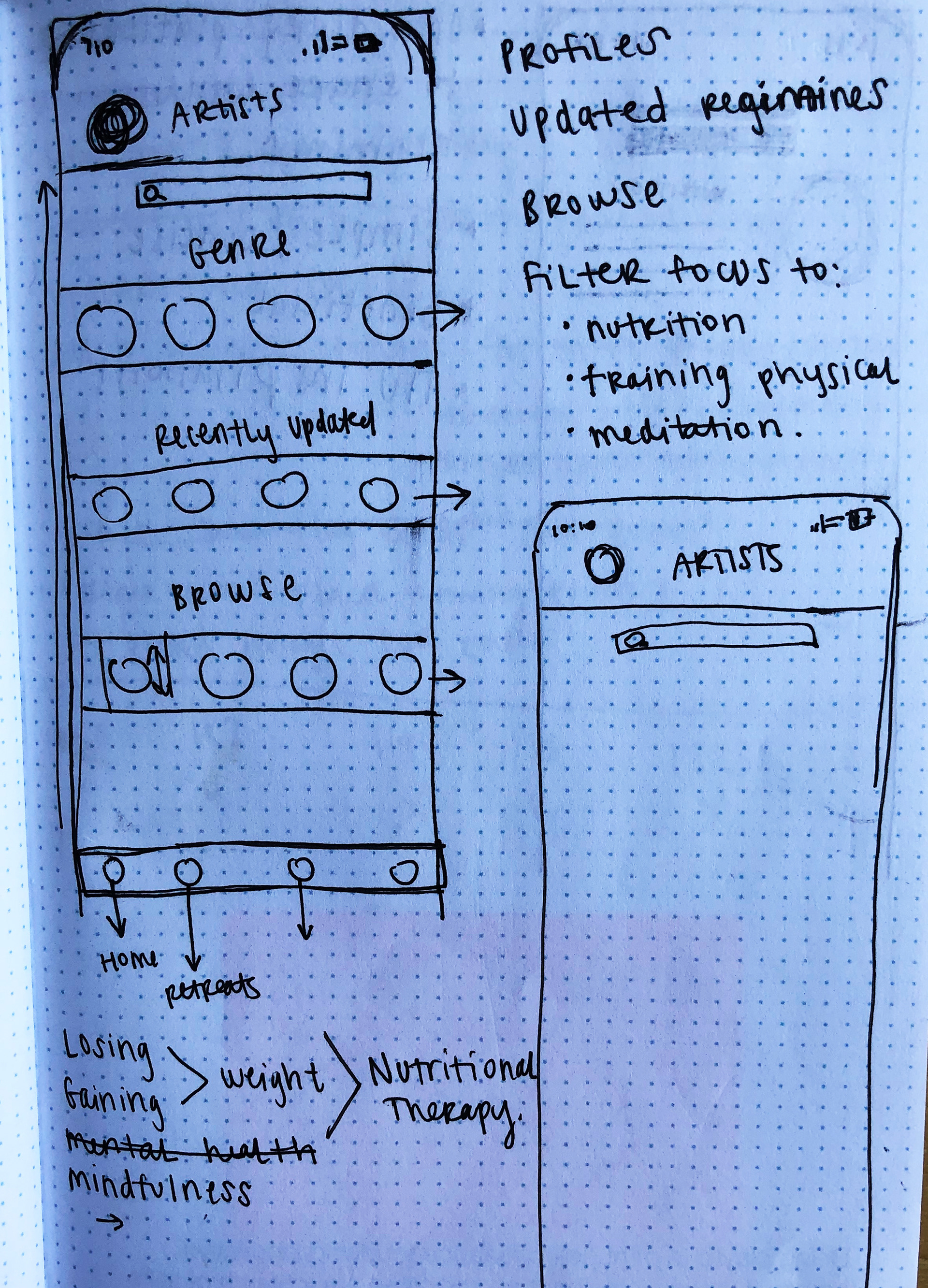 USER TASK & FLOW HI-FIDELITY MOCKUPS
Here the user is exploring her feed (of wellness regimens) from artists with the most popularity on the app. Anyone she chooses to follow will appear at the top of her lists of 'Most Recent' and 'By Artist (A-Z)'.